Afghan poetry book 'First Flamenco in Samangan' evokes nostalgia for Afghanistan
By: Washington Diplomat
As historic peace talks struggle to get underway between the Afghan government and the Taliban, one of Afghanistan's top diplomats has paused to reflect on the still, peaceful and once-beautiful country to which he has dedicated his professional life.
The peace Afghans so desperately want restored today can be found, well within reach, on the pages of The First Flamenco in Samangan, a book by Said Tayeb Jawad, Afghanistan's former ambassador to the United States.
Now Kabul's envoy to Britain, Jawad — a highly respected statesman and academic, particularly well-known among foreign policy circles in Washington and London — used his down time during the pandemic to produce the book, which includes some of his original poetry. For those of us who would like to be safely transported anywhere new these days, this book hits just the spot.
In thoughtful reflection, Jawad lovingly preserves picturesque moments growing up in cosmopolitan Kabul. He describes an educated, progressive and comfortable Afghanistan, which deeply contrasts the nation many have come to know today, only for its decades-long wars and tribal mentalities.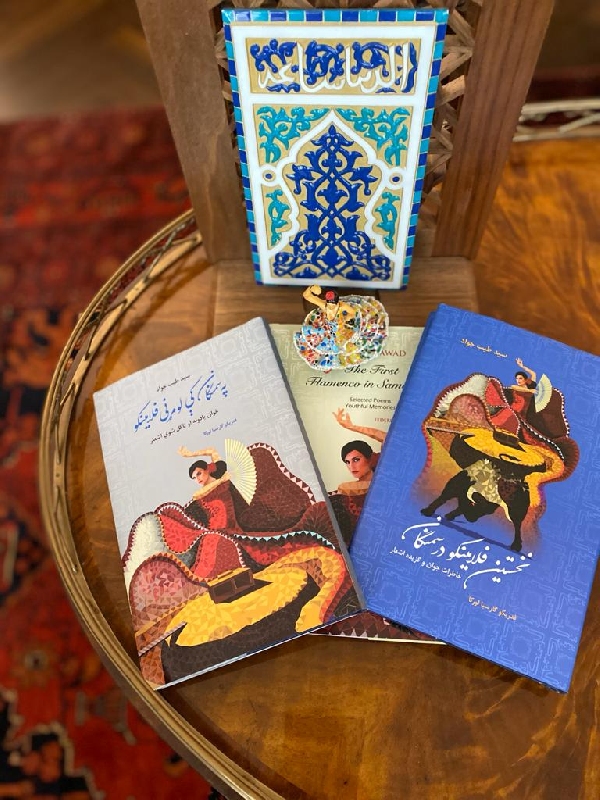 Copies of Ambassador Jawad's book, "First Flamenco in Samangan," in English, Pashto and Farsi.
A reader can nearly smell Jawad's memories of Kandahar's pomegranates and fried fish, as he walks through the streets on a winter school break in search of a more southern sun. Knowing that these tranquil scenes will come to an abrupt and terrifying end with the Soviet invasion of 1979 — the same year Jawad would be forced to flee his homeland for Germany — makes these stories all the more poignant.
While in Germany, Jawad studied law, then migrated to New York City, where he worked in a law firm. In 1989, he went west to San Francisco, received an MBA from Golden Gate University and worked in business, before returning home to Afghanistan to serve as press secretary, and subsequently, chief of staff to the country's first democratically elected president, Hamid Karzai.
In 2003, he arrived in Washington as Karzai's newly appointed ambassador to the United States. Through it all, by writing both poetry and political pieces, he sustained a foothold in Afghanistan's national debate.
While the ambassador's path, in some ways, is similar to other Afghan diaspora, his own story veers sharply into an academic direction, influenced by his late father, Professor Mir Hussain Shah, to whom he dedicates this book. Jawad quietly and deeply revered Shah, a dean at the Faculty of Letters and Literature at Kabul University, and well-known scholar of Afghan literature, who shaped so much of his thinking, before his death in May at 95.
An intuitive communicator and talented linguist, Jawad transports readers to parts of Afghanistan, like the ancient town of Samangan, that have been closed off to foreigners and backpackers for years, cleverly weaving in their cultural charm.
Jawad describes how he would take books to be bound at a small wooden shop, in part so he could listen for hours to the owner, the famous mystic poet, Sufi Ashqari. The ambassador successfully ties these personal stories with a retrospective look at Flamenco dance, which he discovered as a teenager at the French Lycée where the beautiful teachers smoked cigarettes from iconic boxes covered in Maurice Giot's art deco gypsy dancer, called "Gitane."
But this story is not all about the ambassador's formative years. After a look around cosmopolitan Kabul, Jawad shifts gears to a deep, comparative review of work from the ill-fated Spanish poet Federico García Lorca before going on to share his own original poetry.
His book is a bold compilation on a variety of subjects, from bullfighting to poetry, which would seem like peculiar pairings if it were not for the worldliness of the author himself. But Jawad captures the personification of a culturally rich Afghanistan just at the moment when the world stands by to see if the country can negotiate its own peace.
In the meantime, the ambassador offers the best of what the world needs right now: patience, reflection and a deep reverence for simple beauty.